The Neria™ infusion sets are a unique range of products which bring a new level of user comfort and convenience to those who prefer to use a needle set. These were formerly branded as either Thalaset or Contact Sets.
All sets in this range have been tested for compatibility with:
Immunoglobulin
Apomorphine
Desferal
Further testing with other drugs is underway.
Neria™ guard – Infusion set
Applied Medical Technology is also pleased to offer the neria™ guard is a soft cannula infusion set with an integrated insertion device for simple insertions by the touch of a button. A retractable needle may help prevent accidental needle sticks and increase comfort during insertion.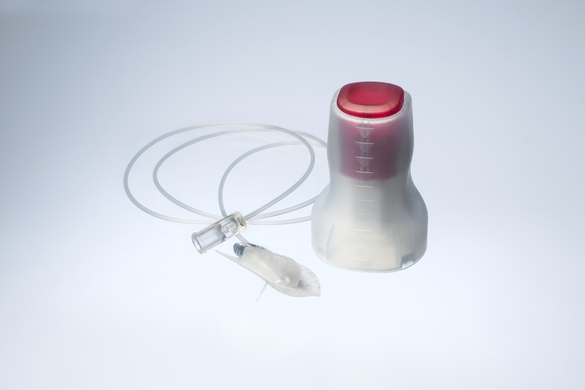 Cannula: Soft
Insertion angle: 90 degrees
Disconnection feature: Yes, at site
Introducer needle gauge: G27, Soft cannula: G23
Cannula lenghts: 6 & 9 mm
Tubing lengths: 12, 60, 80 & 110 cm
Adhesive: Built-in
Priming volumes: 12 cm = 0.04 ml, 60 cm = 0.10 ml, 80 cm = 0.12 ml , 110 cm = 0.15 ml
Needle safty: Yes, passive (Needle not visible before, during and after insertion) 
Options
Neria™ Infusion Sets
| | | | | |
| --- | --- | --- | --- | --- |
| CODE | NEEDLE GAUGE | NEEDLE LENGTH | TUBING LENGTH | BOX QTY |
| 78-060-2738 | 27g | 8 mm | 60 cm | 10 |
| 78-110-2738 | 27g | 8 mm | 110 cm | 10 |
| 78-110-2731 | 27g | 10 mm | 110 cm | 10 |
| 78-060-2938 | 29g | 8 mm | 60 cm | 10 |
| 78-060-2931 | 29g | 10 mm | 60 cm | 10 |
| 78-110-2938 | 29g | 8 mm | 110 cm | 10 |
| 78-110-2931 | 29g | 10 mm | 110 cm | 10 |
| | | | | |
| --- | --- | --- | --- | --- |
| CODE | NEEDLE GAUGE |          NEEDLE LENGTH |        TUBING LENGTH | BOX QTY |
| 78-060-2736 | 27g | 6mm | 60cm | 10 |
| 78-110-2736 | 27g | 6mm | 110cm | 10 |
| 78-110-2936 | 29g | 10mm | 110cm | 10 |
| | | | | |
| | | | | |
| | | | | |
| | | | | |
Neria™ guard – Infusion set
| | | | | |
| --- | --- | --- | --- | --- |
| CODE | NEEDLE GAUGE |          NEEDLE LENGTH |          TUBING LENGTH | BOX QTY |
| 744012-5226 | N/A | 6mm | 12cm | 10 |
| 744012-5229 | N/A | 9mm | 12cm | 10 |
| 744110-5226 | N/A | 6mm | 110cm | 10 |
| 744060-5226 | N/A | 6mm | 60 cm | 10 |
| 744060-5229 | N/A | 9mm | 60cm | 10 |
| 744110-5229 | N/A | 9mm | 110cm | 10 |
| | | | | |
| | | | | |
| --- | --- | --- | --- | --- |
| CODE | NEEDLE GAUGE | NEEDLE LENGTH | TUBING LENGTH | BOX QTY |
| 78-060-2738 | 27g | 8mm | 60cm | 10 |
| 78-110-2738 | 27g | 8mm | 110cm | 10 |
| 78-110-2731 | 27g | 10mm | 110cm | 10 |
| 78-060-2938 | 29g | 8mm | 60cm | 10 |
| 78-060-2931 | 29g | 10mm | 60cm | 10 |
| 78-110-2938 | 29g | 8mm | 110cm | 10 |
| 78-110-2931 | 29g | 10mm | 110cm | 10 |
| | | | | |
| --- | --- | --- | --- | --- |
| CODE | NEEDLE GAUGE | NEEDLE LENGTH | TUBING LENGTH | BOX QTY |
| 78-060-2738 | 27g | 8mm | 60cm | 10 |
| 78-110-2738 | 27g | 8mm | 110cm | 10 |
| 78-110-2731 | 27g | 10mm | 110cm | 10 |
| 78-060-2938 | 29g | 8mm | 60cm | 10 |
| 78-060-2931 | 29g | 10mm | 60cm | 10 |
| 78-110-2938 | 29g | 8mm | 110cm | 10 |
| 78-110-2931 | 29g | 10mm | 110cm | 10 |